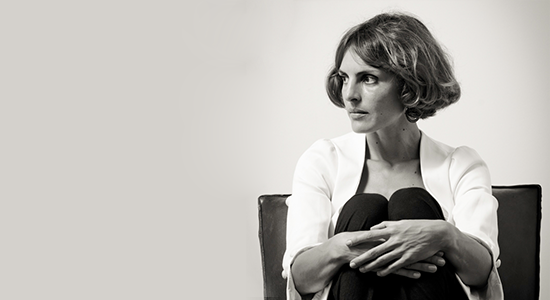 Tell us about yourself ?
I was born in Madrid of Argentinean parents and studied at the Istituto Europeo di Design in Madrid. Right after graduating, moved to London to continue studying at Central Saint Martins and the London College of Fashion where I felt I wanted to specialise in accessories and enrolled the prestigious Cordwainers College. While studying, I created a freelance collection of handbags for Sole, by Soledad Twombly in Rome and was offered a position at English luxury brand Alfred Dunhill, as Leather Goods' Design and Product Development Assistant. I worked with them for two and a half years and learned all the intricacies of leather accessory manufacturing and making world-class luxury accessories working hand in hand with maestros of the trade.
After Dunhill, I accepted a position as Head of Accessories Design and Product Development for men and women at English luxury leather brand, Connolly working with them for another two years and after having launched five successful collections, in 2007, I felt I was ready to realize my dream of creating my own brand, and launched, CELESTE. Delightful pieces- the perfect mix of luxury and playfulness.
CELESTE is the embodiment of myself and my natural talent for creating original and innovative pieces but always marked with the subtleness and elegance that characterize my style.
Clean shapes and the pure, natural beauty of the leather, are the hallmarks of my designs.
I now live in Barcelona. A city bursting with creativity and talent and where I have the studio and showroom.
I am also an active collaborator of charities Barnardos in the UK, Fundacion Aladina in Spain and New York Junior League in New York City.
And I also tach a Master in Leather Goods at IED in Barcelona.
What inspires your designs ?
I get inspired by everyday life and my observations from it.
I love travelling and visiting new cultures and like to get involved on how other cultures live, the food, the textiles, the colours,.. I always carry a small eco friendly notebook where I write down and draw everything that attracts my attention or any idea that I might have.
Art is a big passion of mine and many times I get inspired by artists that I admire, by their strength and personality or by their work.
How would you describe your style ?
I would definitely say that my style is classic with a twist of shape and colour. The perfect mix of luxury and playfulness – impeccable details and finishings with a colourful touch.
What other talent would you like to have ?
I wish I could play a musical instrument- piano would be ideal as I love listening to it !
Who would be your perfect dinner guest ?
I would love to have Frida Kahlo and Diego Rivera sitting in my dinner table.
I'm good at…
Mixing colours- I have a great eye for colour.
But I'm very bad at..
My handicap is imagining a measure in my head- I always have to measure it physically and cut a mock pattern to get the right measurewhen doing a new bag!
And for you, elegance is…
For me elegance is being natural and keeping original and true to onself.
And to finish, if your brand was
a colour, Neon orange
a season, Winter
a country (continent) ? Latin America