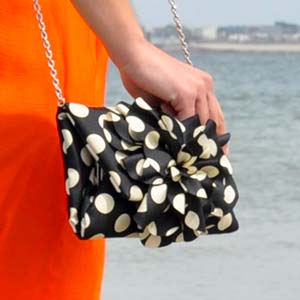 « What is elegance ?
Clothes are such a small part of what makes a person beautiful, don't you agree?
Here's my incomplete and disorganized list of details that, to me, contributes to creating impalpable elegance.
– How you carry yourself. A sporty allure, head held high like a princess, a cat-like stroll, the swagger of a tomboy. A certain way of sitting, a poised neck, the way the hands move… There are a million ways to inhabit your own body.
Take Giovanna Battaglia for example. I would never know how to give a name to her stride that's just so princess of cool. But what I do know, is that she could dress in a bag and she'd still be fantastic.
– A sincere smile. Not a perfect smile, no. A radiant smile. Is it too cheesy to say that? That said, it's so rare that I can't think of an example right off the top of my head (…)
– Ah! Having a great sense of humor, being able to laugh at yourself a little. It's the thing that right away is so disarming to me, especially with men, or women, or kids, or my checkout clerk, or Woody Allen, or Scott, or Anna Dello Russo…
– Attention to others. Have you ever met those people who, when he or she looks into your eyes, you feel like the most interesting person in the world? Who, with all sincerity, are curious about you? (….)
– Politeness. It's stupid, I know, and we never can learn it all, but knowing a few rules of politeness and being able to apply them naturally, without being obvious, goodness, it's so chic. The British are so good at that (…)
– Ah, and I gotta include this because I admire it so much… Well-manicured people. I don't know how they find the time, but these girls with painted nails, perfectly hydrated skin, glossy hair (….)
– Culture. Oh man, a sense of culture that isn't flaunted, or in your face, but one that just shows that you are an open window to the world is soooo attractive! (…)
(…)But, what is elegance, for you? »
Source : www.garancedoré.fr
29/06/2010